Dessica is a specialist in dry air technology and its industrial applications for drying and dehumidification.
These solutions carry out the hygrometric control of premises, the storage of hygroscopic products in dry air or to prevent condensation and corrosion of metals.
In addition, our systems eliminate the problems of clogging and caking of pneumatic transports, storage silos of pulverized products and deal with frost and ice problems in frozen product storage.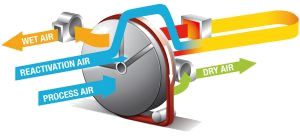 Dehumidification systems supplies dry air to drying processes, production or again packaging and storage environments. They are designed to treat or be installed in air conditions between 5F and 100 F (-15°C and 40°C).
Mastering hygrometry makes possible to control specific products and systems:
the production capacity of drying systems (ovens, towers, fluidized beds…)
clogging and bulking of pulverized products
corrosion
condensation
the quality of hygroscopic materials
the development of bacteria and the spread of micro-organisms
icing
the humidity level in building
mold